We can all appreciate how a lack of calm workplace might affect one's ability to concentrate on the task. Several more factors influence how office design impacts productivity. The influence of workplace design on employee productivity is often felt indirectly, such as increased stress, a sense of malaise, and a lack of drive.
Workplaces that are dark or artificially lighted might hurt employees' mental health and, as a result, their productivity. A worker's capacity to focus and think creatively might also be harmed by a lack of frequent activity.
Employees' emotions can be influenced by office color schemes or absence. Completing needed chores, working cooperatively, being inventive, and experiencing greater health and well-being are simpler in a well-designed workplace environment.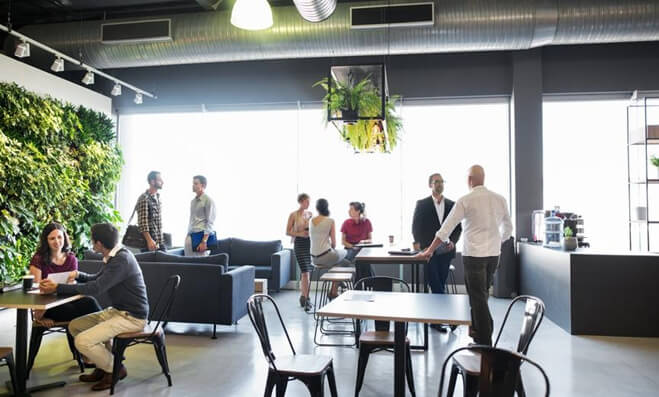 How does your workplace affect your employees' wellbeing?
More than only your workers' wellbeing comes from having a productive working area. Being productive is a result of your surroundings. As a result, if your workplace isn't conducive to productivity, neither will your staff.
Your office design must be functional for your staff to be happy and like working for your company. You may do so by following these tips:
Create a comfortable physical work environment:
The layout of an office and the working environment are inextricably linked. Employees can stay focused and involved in the office if they have a comfortable, physical work environment. However, places that foster attention and concentration must be balanced with the human desire for social connection. Employees may feel confined in closed-in cubicle farms, while open-floor layouts might not give enough privacy for all employees.
Create task-specific work zones in the workplace.
A successful office environment supports an employee's numerous roles during the day, whether collaborating, thinking creatively, or working through a hard assignment. Within a single workday, employees should be able to pick a workplace that best matches the job at hand.
Imagine a worker moving organically between tiny private offices, warm gathering spaces for casual brainstorming and discussion, formal conference rooms, or even a little rest. These areas should be purposefully constructed to aid in the completion of specific duties.
Provide a healthy work environment and office space.
The layout of an office is merely one aspect of a healthy work environment. Employee health and wellbeing are also promoted and encouraged by the resources and perks you supply. As previously said, having the freedom to pick a suitable workspace may help with productivity.
Flexibility also refers to having in-office and remote choices and working flexible hours to encourage a healthy work-life balance. Healthy lifestyles are promoted via health and wellness perks such as in-office yoga or meditation classes, gym memberships, wellness challenges, and fitness wearables.
Conclusion:
It's no longer enough to just provide them a place and a desk and expect them to do their best job. Investing to establish a productive work environment and using strategic design approaches that promote employee health and wellbeing may go a long way toward keeping your employees happier, more productive, and engaged, which benefits them and your company.
We provide a variety of serviced offices, virtual business services, and conference room amenities at Kingfisher House Business Centre. Come look at Kingfisher House Business Centre if you're searching for a new location or new strategies to benefit your company!