With the year slowly winding down and the New Year nearly upon us, many local businesses are beginning to consider making plans for their office Christmas parties. The busy sales season is behind us and the holiday shoppers are taking a break from venturing out to find the perfect Christmas gifts for friends, family, and loved ones. This means that workers get a much-needed break as well and what better way to show your appreciation for all of their hard work than by hosting an office Christmas party?
Is An Office Christmas Party Even Possible This Year?
Today's workers have had an incredibly challenging year. The pandemic has created a new set of challenges for workers in just about every industry. From practicing social distancing, hand hygiene, and wearing PPE, to business shutdowns, working from homes, and slower than average sales, workers have had it tough. But with the COVID-19 crisis still going strong, and the government recommending that we stay home more, how is an office Christmas party even possible this year? This is where Kingfisher House Business Centre comes in. Kingfisher House Business Centre is Bromley, Kent's leading meeting room facility offering a wide range of professional business services to both individuals and companies alike. Their team of business meeting experts can create an adapted Christmas celebration designed specifically to suit your needs.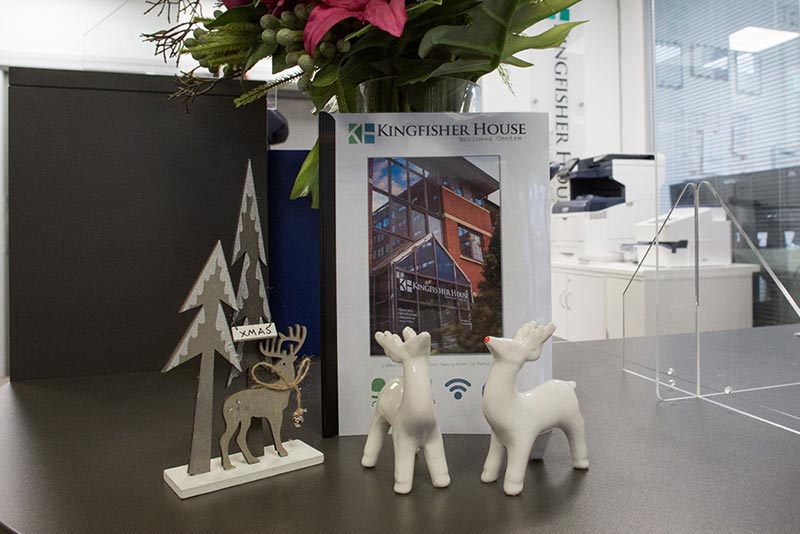 Safe, Hygienic, And Fun Socially Distanced Events
From expertly coordinated socially distanced events, to virtual meetings, Christmas celebrations, and more, Kingfisher House Business Centre can make the festive season merry and bright for you and your staff. With safety and hygiene as the main focus, your team will feel comfortable celebrating with us.
If you are considering hosting an office Christmas celebration, contact Kingfisher House Business Centre and start planning your celebration today.
Our Bromley Business Centre's festive season hours are:
Monday 28th December 2020: Closed
Tuesday 29th December 2020: Closed
Wednesday 30th December 2020: Closed
Thursday 31st December 2020 (New Year's Eve): Closed
Friday 1st January 2021 (New Year's Day): Closed
Monday 4th January 2021: 9am-5pm (business as normal)
Contact Kingfisher House Business Centre
To learn more about celebrating your office Christmas party safely, contact Kingfisher House Business Centre today and speak with a meeting room facilities specialist who can answer any questions you might have.
If you enjoyed this article, please feel free to share it on your favourite social media sites.